What do Andrew Stanton (writer director of Wall-e), Lynn Hershman (acclaimed filmmaker/video artist), Mickey Hart (Grateful Dead), Anne Lamott (author/activist), Mark Pauline (SRL), and Jane Metcalfe (co-founder WIRED) have in common?
They (and 40+ other artists and activists) support the Renegade Liberal (as labeled by the National Journal) and champion of the public option in health care reform, Congresswoman Lynn Woolsey and think so should you.
Each is participating and contributing to an event and art auction to raise funds for the congresswoman not to be missed.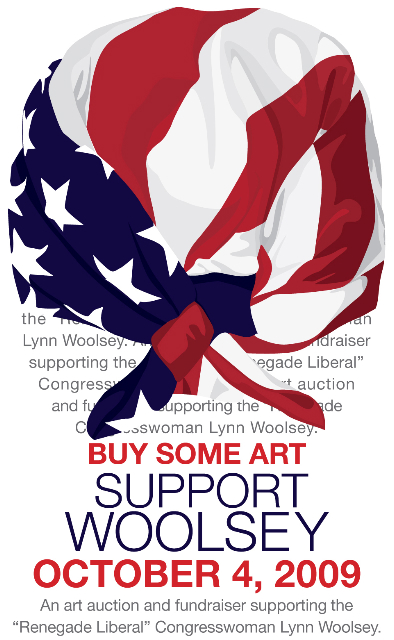 Renegade Art and Democracy
October 4th, 2009
4:00 – 5:00
Artist+Patron Reception
$250
Featuring a Conversation of Renegades including Mark Pauline, Mickey Hart , Lynn Hershman and Andrew Stanton, hosted by co-founder of WIRED Magazine Jane Metcalfe
5:00 – 7:30
Silent and Live Auction
$50
Musical performance by Christie Winn and The Lowdowns
Program featuring author Anne Lamott
40+ piece silent and live auction with art work by Christo, William Wiley, Robert Hudson, David Best, Tiffany Shlain & Ken Goldberg, Jock McDonlad, Lisa Kristine, Philip Krohn, Dave Eggers, George Lucas, Joan Blades and many many more
The Gardens at Cornerstone
23750 Arnold Dr
Sonoma CA 95476
www.cornerstonegardens.com
RSVP: renegade@woolseyforcongress.com
If you are unable to attend you can certainly support Woolsey by joining her on facebook and contributing to her progressive efforts at woolseyforcongress.com